Laser Hair Removal
Our clinic offers a quick, safe and painless hair removal solution for all skin types and skin tones!
Book Now
Laser Hair Removal Services in Ottawa
Women spend 72 days shaving their legs over the course of a lifetime, meaning approximately 1,728 hours. What's more, shaving also ranked as women's most hated beauty ritual. They also spend an average of $20,000 on various products and treatments.
Let's remove all your unwanted hairs right now! Laser hair removal treatments are safe, effective, painless, and a convenient way to achieve silky smooth skin, saving you time and money.
CURRENT PROMOTIONS
Laser Hair Removal
25% OFF
What is Laser Hair Removal?
Laser hair removal is a medical cosmetic procedure that uses a concentrated beam of light (laser) to destroy hair follicles, inhibiting future growth.
Over the years, technology has advanced and brought about devices that are far less painful and more effective than ever before. Every 4-5 years there is a big leap in technology. At Inovo Medical, we regularly review all the different technologies on the market and have done extensive research to offer you the top options.
What are the benefits?
This procedure is safe, fast, accurate and cost-effective. The laser precisely targets your follicle without damaging the surrounding skin. Each pulse takes only a fraction of a second and can treat several hairs at the same time. The procedure can also result in permanent hair reduction, saving you time and effort in the future.
What areas can be treated?
Treatments can be done at any location, including Brazilian, bikini line, underarms, face, neck, back, chest, legs and more! 
What lasers do you use?
At Inovo Medical we use the Fotona SP Dynamis, the best machine on the market. We have the SP Dynamis Pro that uses a 1064 ND YAG laser that is known to be the safest on the market for Black or tanned skin (yes, you can get treated during summer time!)
We also use the Darwin from Luovo. It has a shot mode that is very effective and very quick, as well as a painless in motion mode with Sapphire cooling that is cooler than ice, protecting your skin and keeping you comfortable throughout treatment.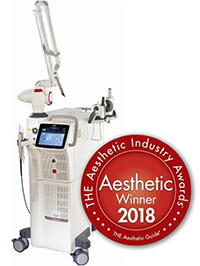 The Fotona Laser
The Fotona SP Dynamis is the best option on the market. It is currently the only machine in the industry capable of treating all skin types. It has the programming to adjust to more than 60 treatments, ranging from acne scars to vaginal tightening, to toenail fungus. The Fotona is the most high-end laser technology in the industry to date. In fact. the Fotona SP Dynamis received the 2018 Aesthetic Industry Winner Badge for the most outstanding product.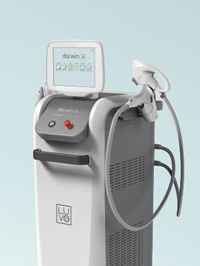 The Darwin with BARE 808 Handpiece
By combining high power pulse and cooling technology, the diode 808nm wavelength targets melanin in the root of the hair follicle without damaging the surrounding tissue. The light energy is absorbed by the hair in the follicle, destroying the source at the root of the problem to prevent future regrowth.
The diode technology in combination with the BARE 808 handpiece's large spot size (14mm x 14mm), contact cooling, and continuous moving mode features, allows for fast and comfortable treatment of large areas such as the chest, back and legs.
The Results
Some people see immediate results, while others may require 2-4 visits before they start seeing the benefits.
You need 6 to 12 treatment for over 90% of your hair to be permanently removed and this applies to 85% of the population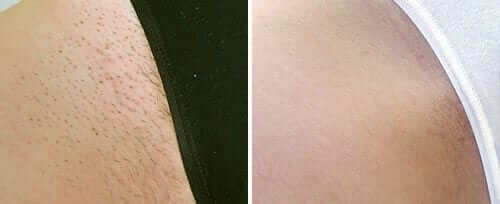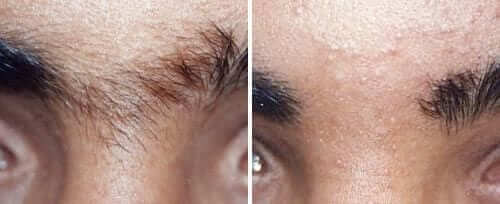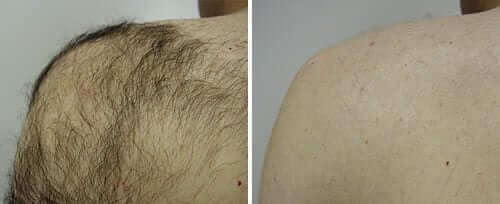 FAQs About Laser Hair Removal
Who can get laser hair removal?
Treatments traditionally work best on people with fair skin and dark hair since the light does not get absorbed by dark pigments in the skin surrounding the hair follicle. However, devices with longer wavelengths, such as our "Nd:YAG" laser, have the ability to treat darker skin types, as they can reach the deepest hair follicles with lower light absorption by the surrounding skin.
What if I have darker skin?
The Fotona Dynamis Nd:YAG can be used on all skin types. It uses an exclusive method of delivery called Avalanche FRAC3®. This method is based on a technique by which the absorption of light in the follicle is increased with each successively delivered laser pulse. The Avalanche method helps reduce discomfort and improves the efficacy of the treatment for darker skin tones.
How should I prepare before treatment?
It's important to ensure that you haven't had significant sun exposure to the area that you will be getting treatment. We also want to make sure that you avoid applying any self-tanners to the area.
Please ensure that you have shaved the area - do not use wax, sugar, or hair removal creams, gels, or foams (i.e. veet, nair). These options will target too closely to the root of the hair, which will not allow for the laser to successfully penetrate the follicle and ensure optimal results are achieved. Shaving before the treatment allows us close exposure directly to the root.
How long does the treatment take?
Generally, a treatment takes around 30 minutes. Depending how much you are having done, that time could increase. We also recommend coming 20 minutes prior to your appointment if you require numbing for the area.
How many treatments will I need?
Typically, you will need 6 treatments. Depending on your skin and hair type, more treatments could be required.
Is laser hair removal painful?
No, the treatment should not be painful. There may be more sensitive areas where some discomfort may be experienced, however, we limit any discomfort with the use of a topical numbing cream. This should ensure the maximum amount of comfort during your treatment.
When will I see results?
You will begin to see results after your first few treatments.
How long will the results last?
Results are typically permanent, however, fine hairs could potentially resurface in the distant future.
Are there any side effects to laser hair removal?
Side effects are not very common, however, minor instances such as redness and sensitivity to the treated area can occur.
Fluctuating hormones can also cause some of the hair to grow back. Therefore, a few people will be poor responders. Although very rare, some people may even see additional hair growth.
Book Your Appointment Online:
During Your Consultation
Our medical staff will meet with you at our laser clinic in Ottawa.
We'll go over your unique situation and your goals.
We'll discuss what to realistically look forward to.
We'll present the various treatment options available.
We'll recommend what we feel meet your needs best.
Finally, if you're ready we'll book your treatment.