Eye Treatments in Ottawa
Ultherapy®
Ultherapy uses microfocused ultrasound to generate a thermal effect under the skin. This effect essentially jump-starts your body's own process to create fresh, new collagen.
This non-surgical treatment can be used to lift the brow, delivering natural-looking results that improve over time. See a sample below, and learn more about Ultherapy.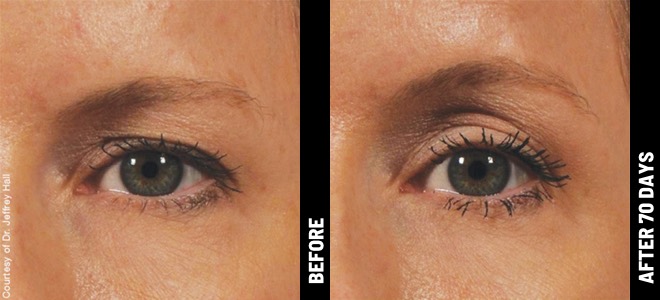 Opus RF Plasma for Eyelid and Undereye
The eyes can be one of the first areas to show signs of aging. This includes:
Fine lines and wrinkles
Crow's feet
Loose skin
Dark circles
Our #1 treatment for all of these conditions in the eyelid and undereye area is Opus, a new microplasma technology from Alma.
 Opus uses high-frequency unipolar radiofrequency energy to create tiny amounts of damage in the skin and trigger its natural collagen production through a wound-healing response. This is similar to microneedling, except that it uses microplasma technology.
We've seen great results from just 1-2 sessions – the treatment is quick and there is no downtime afterwards!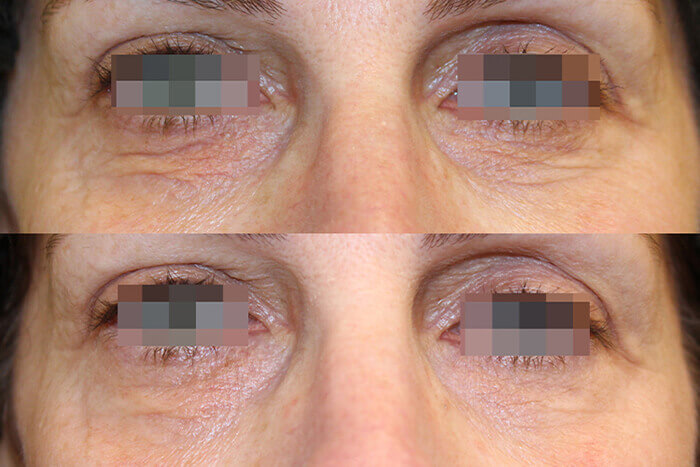 Regain Skin Firmness
Why Does Skin Gains Laxity with Age?
Collagen is essential for healthy youthful skin because it gives structure to the cells and supports the dermis. As we age, the production of collagen reduces causing our skin to loose laxity and create wrinkles. This process is natural and can be expedited by environmental factors like smoking, sun exposure and pollution.
How can you Sustain Your Collagen?
You can help sustain your collagen with a healthy lifestyle and a collagen supporting regiment. Use sunscreen year round, drink plenty of water and help restore your skin firmness and structure with collagen formation treatments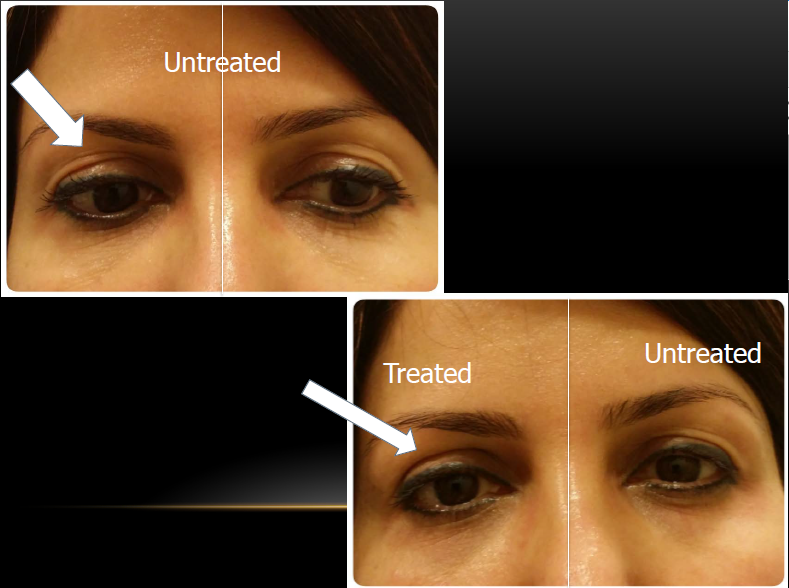 Non-Invasive Eyelid Lift (Blepharoplasty) 
If you are suffering from a droopy eyelid or other skin issues in the eye areas, we are proud to offer our FotonaSmooth™ Laser for peri-ocular resurfacing.
This is a particularly popular treatment amongst those with age concerns. A laser light is used to lightly ablate the surface of the skin, softening the appearance of wrinkles, tightening the skin and lifting dropped contours. This treatment can be used as a stand-alone treatment or used after having had anti-wrinkle injections to prolong results. With no need for needles or invasion of the skin, this is a key treatment for anyone wanting a non-surgical eyelift.
How many treatments will I need?
Due to the nature of the treatment, the amount of sessions required are dependant on your natural body response. An average treatment plan consists of 3 treatments to be had 6 weeks apart. Top up and maintenance sessions may be required.
Tear Trough Filler
Many people suffer from having dark circles or bags under their eyes, which often portrays an older, tired appearance. With age, volume can also begin to reduce in that area adding to this appearance.
By using dermal filler and injecting it into the targeted under-eye area, we're now able to effectively eliminate dark circles, bags, or "hollow eyes". The dermal filler helps to give back volume to the area and even out skin tones within that region of the face. Dermal filler tones up the skin under the eyes by filling the hollows that cause eye circles. 
This treatment is relatively pain-free and minimal bruising. Results are often best seen after 2 weeks post treatment once the filler has settled and any swelling has reduced.
How long does it last?
Tear trough filler can vary in duration between each person. We use the high quality dermal filler, Radiesse, to ensure that results typically last upwards of 8-12 months – often even exceeding this timeline.
Want to learn more about all our dermal filler options? Click here to explore. 
Our Approach
Our innovative approach to cosmetic medicine combines a number of medical procedures, many of which are complementary and work synergistically to optimize results and offer the best possible cosmetic outcome.
We view beauty as more than just an outward appearance. It reflects how you feel inside, and in turn affects your confidence, your self-esteem, and your appreciation of life. It also affects your career opportunities, your relationships, and your personal growth.
At INOVO, we offer exceptional medical aesthetic services to improve your skin, and the contours of your face and body, and we treat a variety of skin conditions.
Discover how Inovo Medical's science can change your life. Discuss it with your doctor today.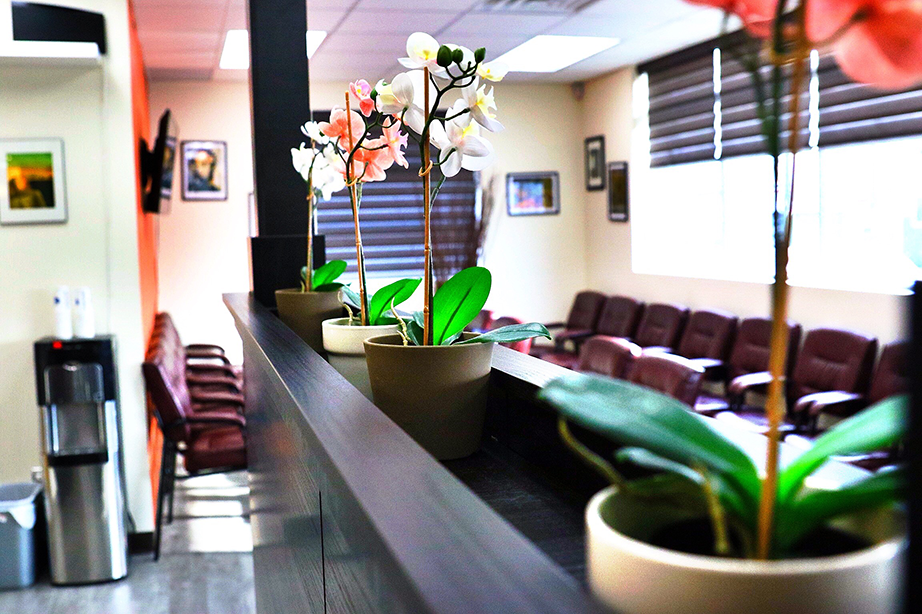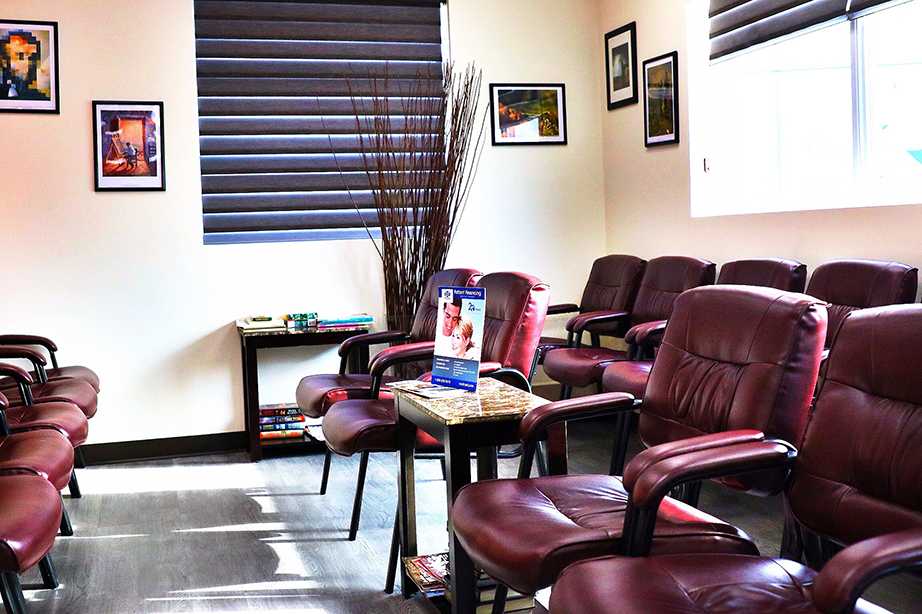 During Your Consultation
Our cosmetic medical staff will meet with you.
We'll go over your unique situation and your goals.
We'll discuss what to realistically look forward to.
We'll present the various treatment options available.
We'll recommend what we feel meet your needs best.
Finally, if you're ready we'll book your treatment.