Sagging Face and Neck
Ultherapy®, Opus RF Plasma, Fillers, Botox®, and More
Ultherapy® : Non-Invasive Facelift
Introducing the only approved non-surgical facelift in Canada! Ultherapy uses microfocused ultrasound to generate a thermal effect under the skin. This effect essentially jump-starts your body's own process to create fresh, new collagen.
Unlike lasers, radio frequency, surgery, and other technologies, Ultherapy bypasses the surface of the skin with focused imaging—to target just the right amount, at the right depths, and the right temperature. See some impressive results below, and learn more about Ultherapy.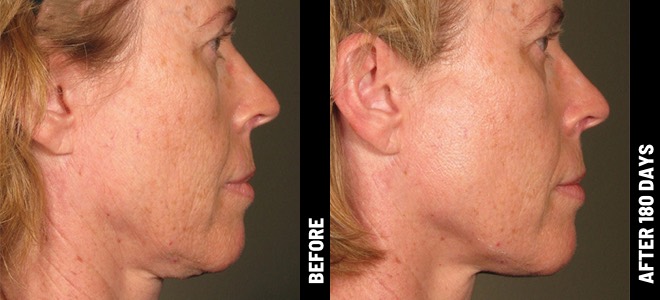 Opus RF Plasma: Skin Resurfacing
Opus Plasma builds upon the popular and widely accepted science of fractional skin resurfacing and advances this field forward with an option that improves the patient experience using a novel, new energy source – Plasma. With Opus Plasma you can enjoy fractional skin resurfacing results with much less downtime.
We've seen some amazing improvements in texture and tone after just one treatment. It's also highly effective at tightening skin in the neck as seen below: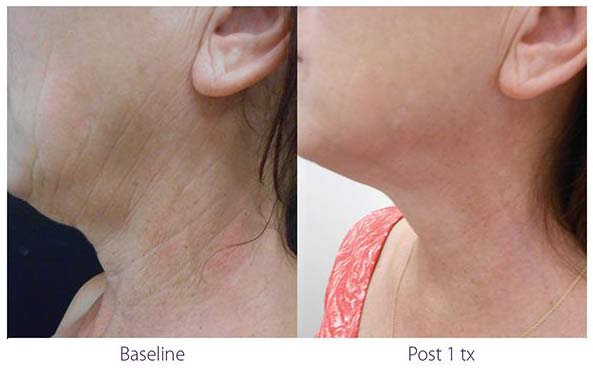 Opus Plasma is a quick, 15-minute outpatient treatment usually performed following application of a topical anesthetic. During your consultation your practitioner will assess your skin to personalize the best treatment plan for you.
TruSculpt iD for Under-Chin
truSculpt iD is a safe and effective technology that is clinically proven to permanently eliminate fat cells in stubborn areas including under-chin. This is a minimally invasive, quick treatment (15 minutes) with no downtime!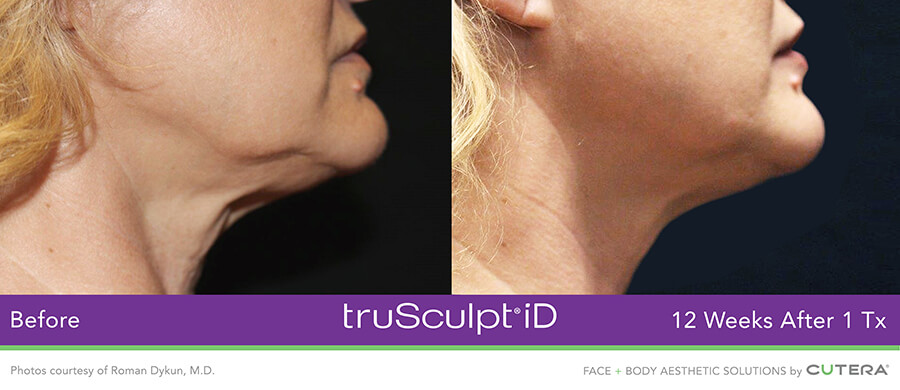 Cosmetic Injections
Minimally-invasive injectables are a fast and effective way to rejuvenate your look. The procedures are short, and there is little recovery time. These procedures are much less invasive, and also less expensive than plastic surgery. At Inovo, we use conventional solutions, such as dermal fillers and muscle relaxants, and also some regenerative medicine-based solutions.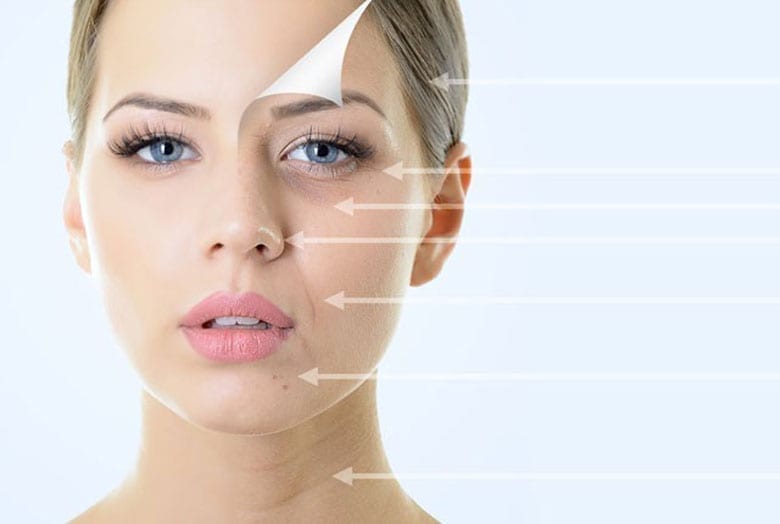 Conventional Solutions
When it comes to traditional solutions for injections, there are two (2) relevant categories. First, there are muscle relaxants (e.g., Botox®), that help expression muscles relax. And second, there are dermal fillers, used to fill creases and mold skin into the desired form.
Allow our aesthetic dermatology professionals to offer you the best combination of BOTOX® and dermal fillers.
Muscle Relaxants
Botulinum toxin (often referred to as Botox) is a safe muscle relaxant currently used for a variety of medical problems. This anti-wrinkle treatment consists in injecting small doses of Botox or Xeomin into the muscles of the upper face (for head, eyebrows, eyes). The medicine relaxes the muscles, which softens the expression wrinkles related to muscle movement. Moreover, it leaves the skin smoother overall and even reduces facial perspiration, giving a matte appearance.
Dermal Fillers
Dermal fillers are of the hyaluronic acid (HA) family. HA is a substance produced by the body that plays an essential role in moisturizing the skin and restoring its natural volume.
Dermal fillers are highly effective at lifting nasolabial folds, contouring the jaw, and lifting cheeks and sides of the face. 
Fillers are rejuvenation products that can yield immediate results, and are recognized for their natural appearance. The face is not immobilized, and all facial expressions are preserved.
Learn more about Dermal Fillers
What is Fontona 4D?
Fotona 4D is a series of Synergistic, non-invasive laser treatments of both the exterior face and interior oral cavity, enabling full thickness contraction of collagen for persistent tightening and volumization (wrinkle reduction) without injectables.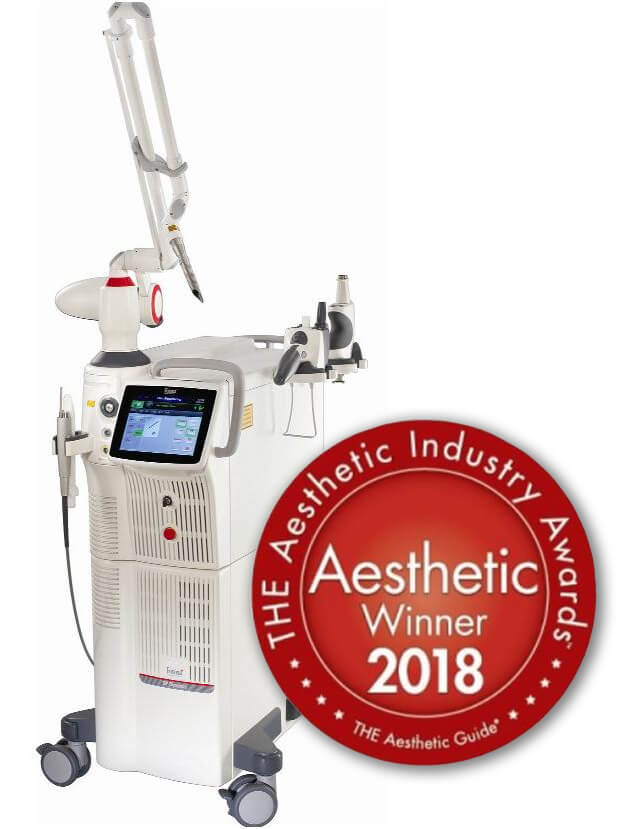 Fotona SP DYnamis
The Fotona Laser is the best on the market. It is currently the only laser in the industry capable of treating all skin types. It has the programming to adjust to more than 60 treatments, ranging from acne scars to vaginal tightening, to toenail fungus. The Fotona Laser is the most high-end laser technology in the industry to date. It is to this fact, that it received the 2018 Aesthetic Winner's badge.
Laser Skin Resurfacing
Fractionated for Trauma Scars, Acne Scars, Surgical Scars and Stretch marks (mommy makeover).
Non-Surgical Facelifting
Fotona 4D Before and After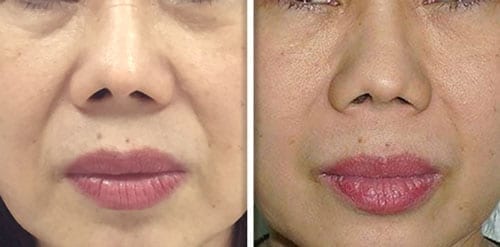 The 4 Dimensions of Fotona 4D
Stage 1: SmoothLiftin™
The first step is an exclusive non-invasive treatment that heats up the skin intraorally and targets volume through a process called collagen induction. The effects are an overall improvement of tightness and elasticity of the skin along with a plumping effect, much like a filler.
Stage 2: Piano™
The second stage of Fotona 4D involves heating the skin safely and rapidly from the outside by concentrating energy delivered subcutaneously. This stage is done using a brushing technique and provides an outstanding tightening effect for areas experiencing skin laxity.
Stage 3: Frac3™
The third step involves the targeted treatment of specific, deeper imperfections in the skin like spots and vascular components using a fractional laser. Frac3 is fast, efficient and will help restore youthful texture.
Stage 4: SupErficial™
The final stage is like a polishing effect for your skin. This treatment removes dead skin cells to reveal the brighter, healthier tissue below and provides that noticeable "glow" to your skin.
The in-out facelift for volume, tightening and lifting much like the results of filler but more long lasting.
Combination: SmoothLiftin + Piano
Treatment time: 30 minutes
Volumize, tighten, lift, and seek our minuscule age-related imperfections such as pigment and flushing.
Combination: SmoothLiftin + Piano + Frac3
Treatment time: 45 minutes
Add a light cold micro-laser peel to polish the skin for a fuller rejuvenation.
Combination: SmoothLiftin + Piano + Frac3 + SupErficial
Treatment time: 60 minutes
Our Approach
Our innovative approach to cosmetic medicine combines a number of medical procedures, many of which are complementary and work synergistically to optimize results and offer the best possible cosmetic outcome.
We view beauty as more than just an outward appearance. It reflects how you feel inside, and in turn affects your confidence, your self-esteem, and your appreciation of life. It also affects your career opportunities, your relationships, and your personal growth.
At INOVO, we offer exceptional medical aesthetic services to improve your skin, and the contours of your face and body, and we treat a variety of skin conditions.
Discover how Inovo Medical's science can change your life. Discuss it with your doctor today.