Wart Treatment in Ottawa
What are warts?
Warts are small, grainy, hard bumps that can appear anywhere on the body but most commonly develop on the hands and feet. They are caused by a viral infection and are contagious – not only from skin-to-skin contact, but from surfaces as well. The virus creates an excess amount of keratin (hard protein) that develops in the top layer of your skin (epidermis).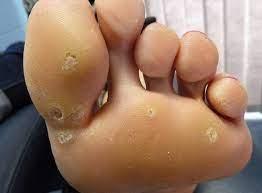 How do you treat them?
In most cases, we begin by removing the dead skin by shaving it down. This is completely painless.
Then, using the Fotona's SP Dynamis laser system (Nd:YAG), we heat the wart deep into its root. The heat kills the wart, leading it to dry out and fall off. Treatment can be performed on various parts of the body.
How many treatments do I need?
Typically, one visit is enough. For larger or more problematic warts, some patients will need 1-2 extra sessions (spaced 2-4 weeks apart).
Are there any side effects?
Side effects vary from patient to patient and are often very mild but can include: 
Redness and swelling 

Blistering (not very common) 

Localized sensitivity

Book Your Appointment Online:
During Your Consultation
Our cosmetic medical staff will meet with you.
We'll go over your unique situation and your goals.
We'll discuss what to realistically look forward to.
We'll present the various treatment options available.
We'll recommend what we feel meet your needs best.
Finally, if you're ready we'll book your treatment.